Jakub
Topic:
I treat swear words as a sign of not coping with emotions. When I was in university and later, they were practically non-existent in my vocabulary. Recently, I find myself using them more often. My approach has also changed. I treat swear words rather as a spice – I use them occasionally, but with full awareness.
Data gathering:
Data collection was simple. I used my proven method: hourly reminder to write down all swear words. I think there were relatively few of them. On average, I used 9 swear words per day, most often starting with K.
Data drawing:
I pictured the data as a balloon and the emotions escaping from it through swear words as outlets. I used the star symbols on purpose. The second place in the statistics of the swear words I use was ***** out of the iconic ***** ***.
Klaudia's postcard:
I got to know Klaudia both through the analysis of her postcards, but also during several meetings and quite long conversations. Definitely swear words do not suit her. I expected that there would be few of them. Therefore, I fully understand that the statistics also include swear words heard and read.
The process: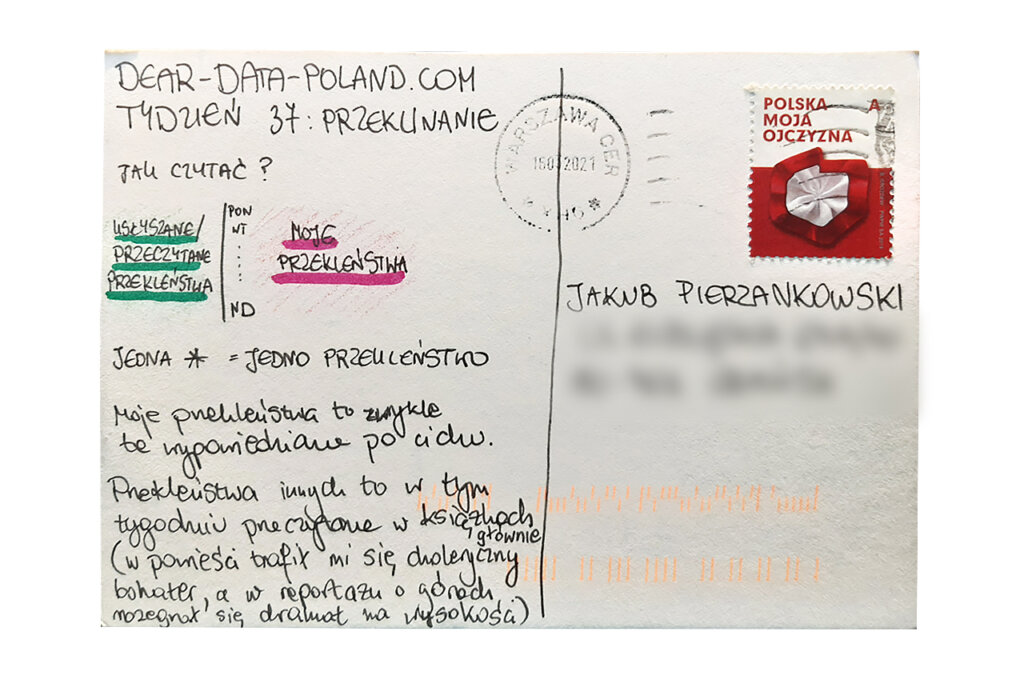 Klaudia
Topic:
I don't swear too much, but it depends on the period of my life. I'm definitely trying to avoid it. Swearing doesn't help me at all, and it doesn't relax me. On the contrary – it usually makes me even more angry.
Data gathering:
I wrote down every swear word I said (usually to myself) and heard / read. As luck would have it, almost every evening I was reading a novel by Isabel Allende with a very explosive main character, who definitely accounts for a large part of my postcard. I also listened to an audiobook about climbing in the Himalayas, and there were also swear words in moments of danger and helplessness. I heard only one swear word from another, living man – my husband during an argument. Well, the pandemic…
Data drawing:
I like using the so-called diverging bar charts, so I showed the relationship between my own swear words and those from other sources.
Jakub's postcard:
I love the idea of emotion outlets. When everything is in turmoil, sometimes we just have to let go of bad energy. Simple and clear!
The process: