Jakub
Topic:
It was the most awaited topic by my girlfriend, Agata 😉 I was wondering for a long time how to approach it and what to measure. I wanted to come up with something insightful. The idea emerged during a routine Facebook backup (I do it every two months). I decided I would investigate the intensity of our Messenger communication. We use it very often. As it turned out, a little less with the passing of years. Maybe it's the fate of a mature relationship 🙂
Data gathering:
I exported from Facebook the entire history of our communication (yes, it can be done easily), from the day of our first message in October 2014 to January 2021. During this time, we exchanged over 13,000 messages in total. Having them all in Excel I was able to "play" with them.
Data drawing:
This is the second time in Dear Data that I use printing combined with drawing. I grouped all the messages into months. On this basis, I prepared a line graph, which I printed on a postcard, and then colored it and added additional comments to show the most important moments of our relationship.
Klaudia's postcard:
I come from Łowicz. Klaudia's postcard reminds me of the Polish folk art from my city. And I admit that the postcard is enigmatic, just as Klaudia wanted. I think it will be fun for Klaudia to come back to this postcard in a few years.
The process: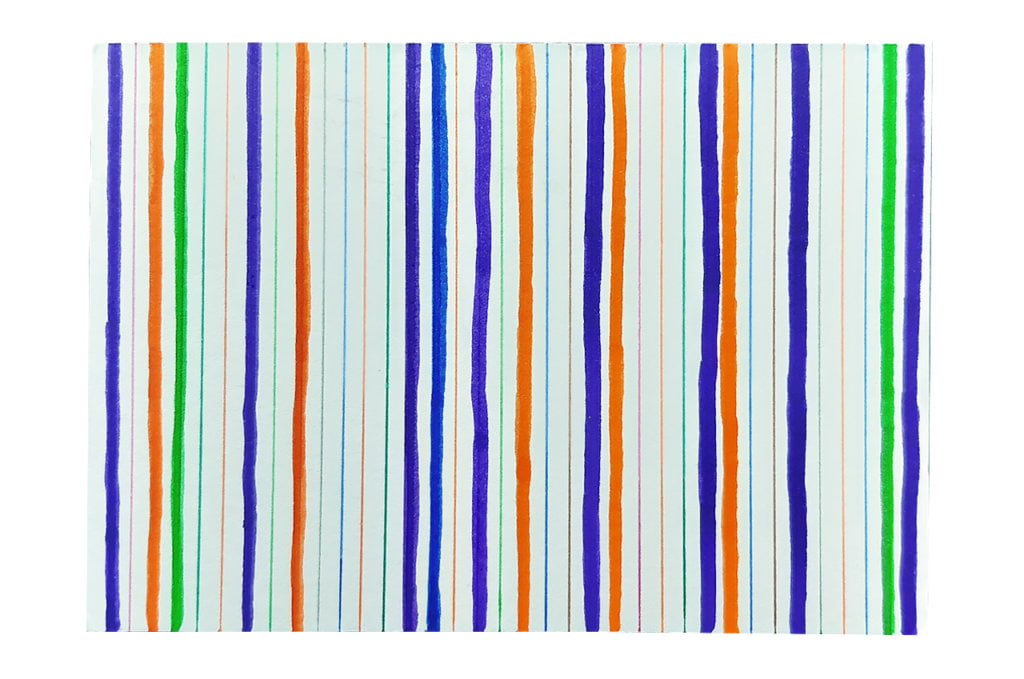 Klaudia
Topic:
I was not looking forward to this week. I definitely prefer to collect data about myself than about other people 🙂 It feels weird. 
Data gathering:
Every day I wrote down what Łukasz did and at what times. I defined broad categories such as: work, time spent with our daughter, sports. 
Data drawing:
I wanted this postcard to be enigmatic and not very revealing. The idea of simple, colourful lines is an experiment that has been on my mind for a long time. I'm not particularly proud of this card 🙂
Jakub's postcard:
I found really interesting the idea of exporting Messenger messages. I didn't know it was possible! The downward trend and the comments added by Jakub caught my attention.
The process: