Jakub
Topic:
I had absolutely no idea what to do this week. I was looking for a way to creatively avoid this topic. 
I came up with the idea to ​​buy perfume, which is always a special occasion for me.
Data gathering:
I only have one bottle of perfume at a time. I focus on quality, not quantity. I also never buy the same perfumes, because I like trying new scents. Buying a perfume is really special for me, as it is an expensive pleasure and I enjoy the mere process of choosing. I spend up to an hour at the drugstore and ask the salesperson a million questions. By eliminating, I reach 2-3 fragrances, and the final decision depends on the shape of the bottle. I treat perfume a bit like a sculpture on my shelf.
Data drawing:
I admit that I took the easy way out. I analyzed the composition of the newly purchased perfume and with the help of my girlfriend I drew the ingredients.
Klaudia's postcard:
Klaudia did not take shortcuts. The data collection process must have been arduous. It's good that the graph is dominated by pleasant smells… and the sea 🙂 I love circle-based data visualizations.
The process: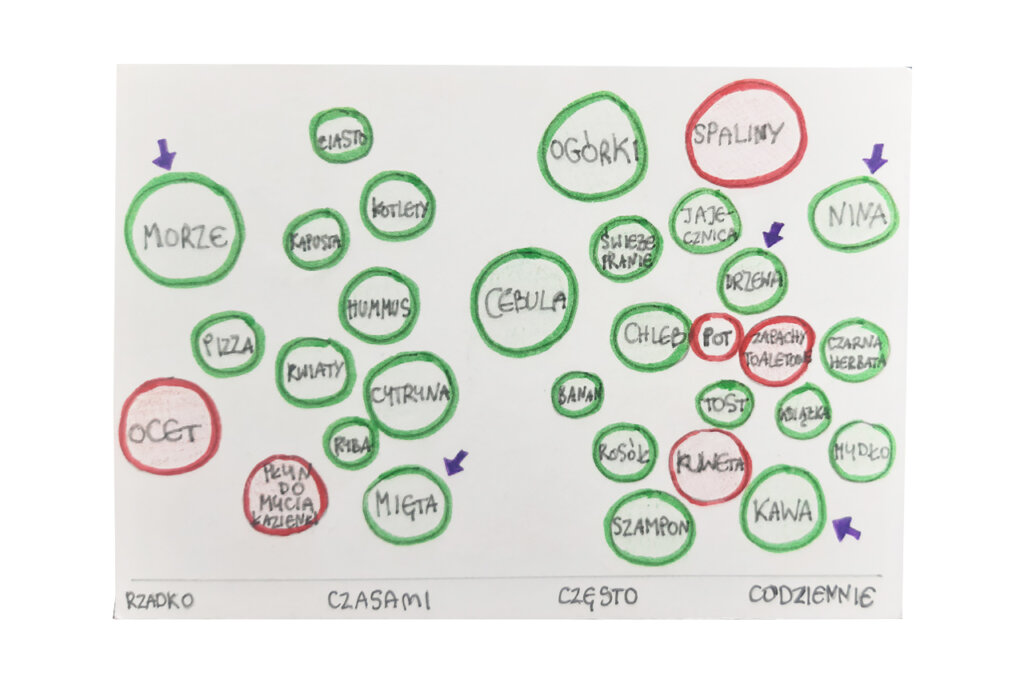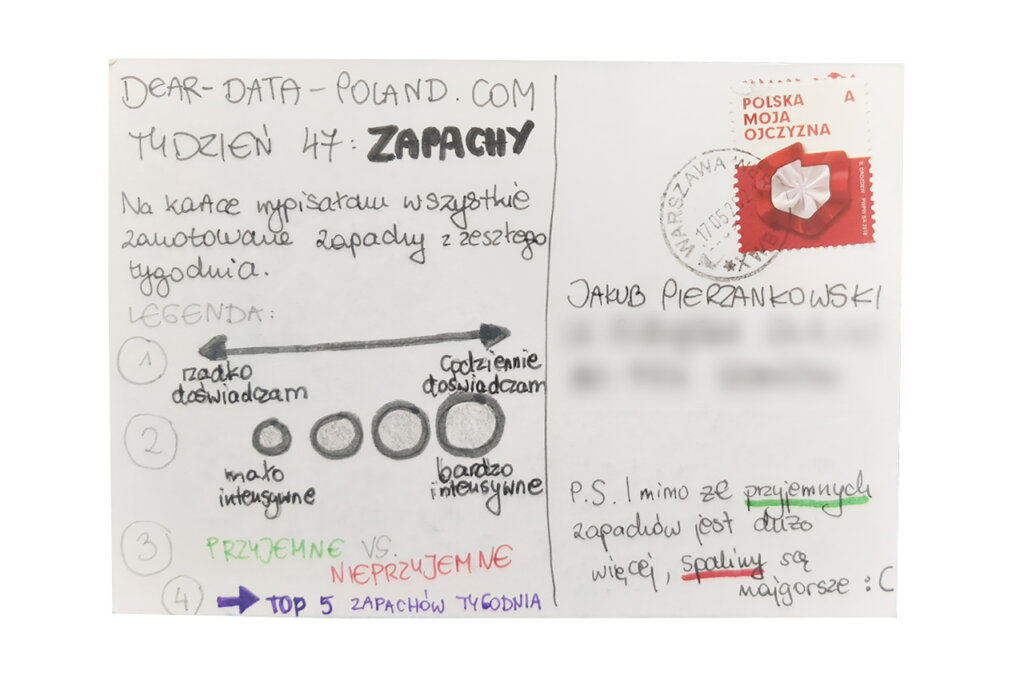 Klaudia
Topic:
The subject is completely neutral to me, but I was curious to see how many scents I could detect in just one week.
Data gathering:
I focused on everyday fragrances. I noted them down during the day or in the evening.
Data drawing:
As usual, I started with the analysis of the collected data. I was wondering what they say about me and how I can break them down into categories. I was interested in the proportion of pleasant to unpleasant fragrances and how often certain fragrances appear in my life.
Although there were a lot of pleasant smells this week, I was really bothered by smog. Unfortunately this is my daily annoyance, as I live in the centre of Warsaw.
In turn, the sea, which I visited just for the weekend, gave me the most pleasant experience.
Jakub's postcard:
Amidst so many graphs it was refreshing to see a nice drawing, without any chart. 
Thanks to the postcard I found out what patchouli is and what it looks like. Thank you 😉
The process: