Jakub
Topic:
My use of cosmetics is rather boring. I've been using the same products for months. I do not have plenty of them, but probably more than most men – I use a cleansing gel, tonic, serum, face cream and eye cream. I was inspired to take care of my skin after watching one of Kasia Gandor's videos on YouTube (a well-know popular science channel in Poland).
Data gathering:
On Monday morning I analyzed my first use of cosmetics this week and I discovered that my postcard was going to be… dead boring. Few hours later we briefly discussed with Klaudia our approach to data this week. In our talk we also touched on the Women's Strike. It was an aha-moment for me and I decided to analyse the make-up of all women I was going to talk to face-to-face in the following 7 days.
Data drawing:
It was the most time-consuming postcard since the beginning of Dear Data Poland. It took me over 4 hours to finish. I had at least 5 ideas. I really wanted to show the lightning (Women's Strike characteristic sign), because it was the most important event in Poland this week. My main challenge was how to show both women's make-up and their fight for basic rights (at the same time I did not want to imply that women only care for make-up!). I decided to multiply the lightning sign and show that women are very different from each other in terms of make-up usage. My only regret is that I did not collect data on the lipstick and eye make-up colour. It would certainly enrich my postcard.
Klaudia's postcard:
Klaudia's project is minimalistics and this is what I expected. We both agreed that there was not much data to collect. The idea to split cosmetics into used and not-used is interesting. I will try to convince my girlfriend to carry out a similar analysis 😉
The process: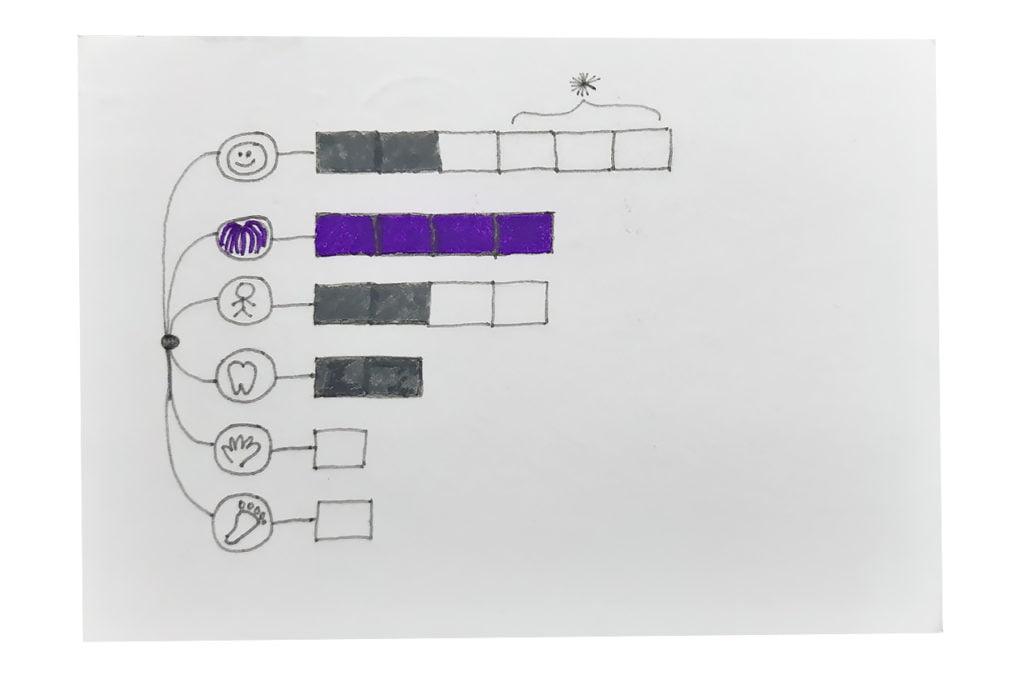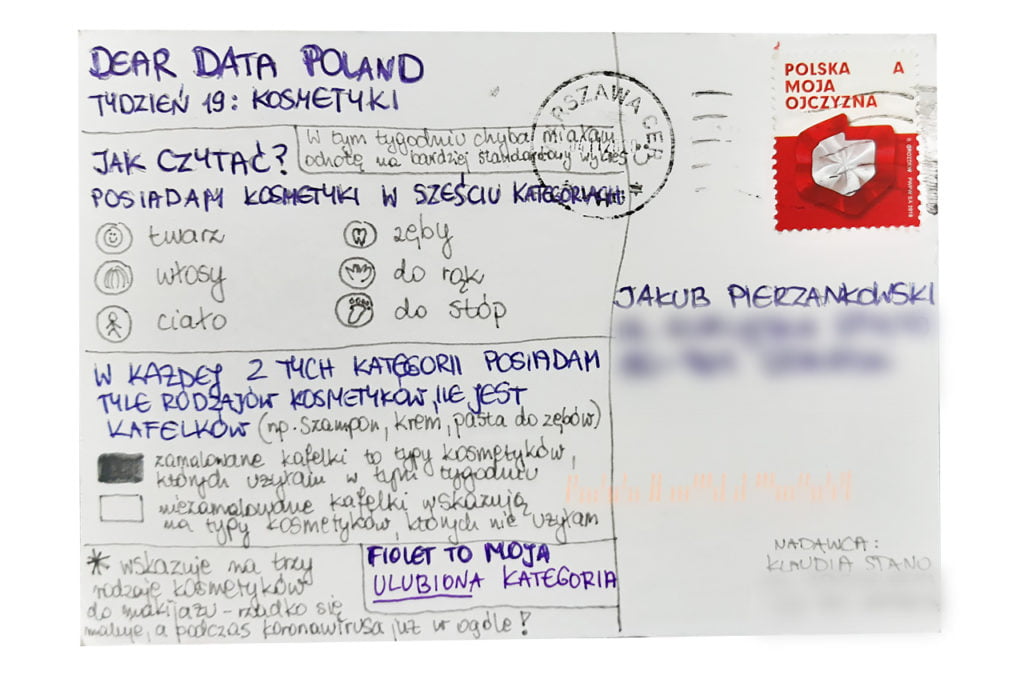 Klaudia
Topic:
I must admit that cosmetics is an ultra-unexciting topic for me. I use only a few products on a daily basis, with a neutral approach. I only like to take care of my hair (which is reflected in my postcard).
Data gathering:
Because of the topic I was worried that my Google sheet was going to fill slowly and I was right. However, I drew some conclusions at the end of the week. I discovered there were many cosmetics on my shelf that I did not use even once. It made me wonder how many cosmetic types I own (by category). I used this analysis as a starting point for the postcard.
Data drawing:
This week I felt an urgent need to create a more ordinary data visualization than before. I wanted my graph to convey the most important message at the first glance. And although my chart is (in my opinion) comprehensible, I lacked an "artistic spirit" from the weeks before. And it doesn't feel right. My conclusion is that the Dear Data project is a place to experiment and not to follow the beaten tracks. So I look forward to the upcoming weeks! 🙂
Jakub's postcard:
When I took Jakub's postcard out of my mailbox, my jaw literally dropped! The combination of this week's topic and the current political atmosphere truly enchanted me as I myself actively participated in the protests. I am really impressed and happy that the fight for women's rights became part of Dear Data Poland!
The process: