Jakub
Topic:
I am a fan of ongoing optimization. I experiment a lot with various tools to optimize my work. At the same time I try to be a minimalist. There is virtually nothing on my desk but my computer. I keep my desktop clean and constantly strive for the so-called "zero inbox". This week I focused on the tools I used.
Data gathering:
Based on weekly reports sent to my boss and my private notes summarizing the week (I have been keeping them for over a year), I knew exactly what tools I used and whether it was for professional or private purposes. Then I divided the data into four categories depending on the frequency of usage.
Data drawing:
I am a fan of circles, even though I know that they are quite risky in data visualization. This postcard only proves it. Upon finishing I noticed that the size differences are sometimes hard to notice. It's easy to see the difference between the largest and the smallest circle. However, this cannot be said for the middle circles. Well, learning from mistakes 🙂
Klaudia's postcard:
I appreciate Klaudia's diligence 🙂 I am becoming a bigger and bigger fan of the colours used by Klaudia.
The process: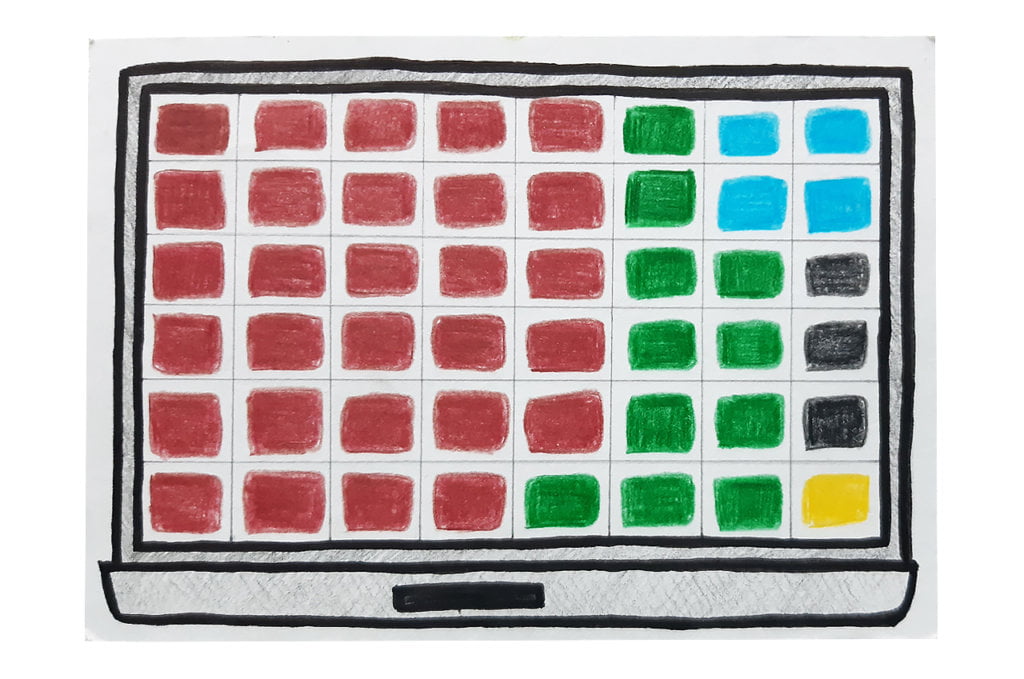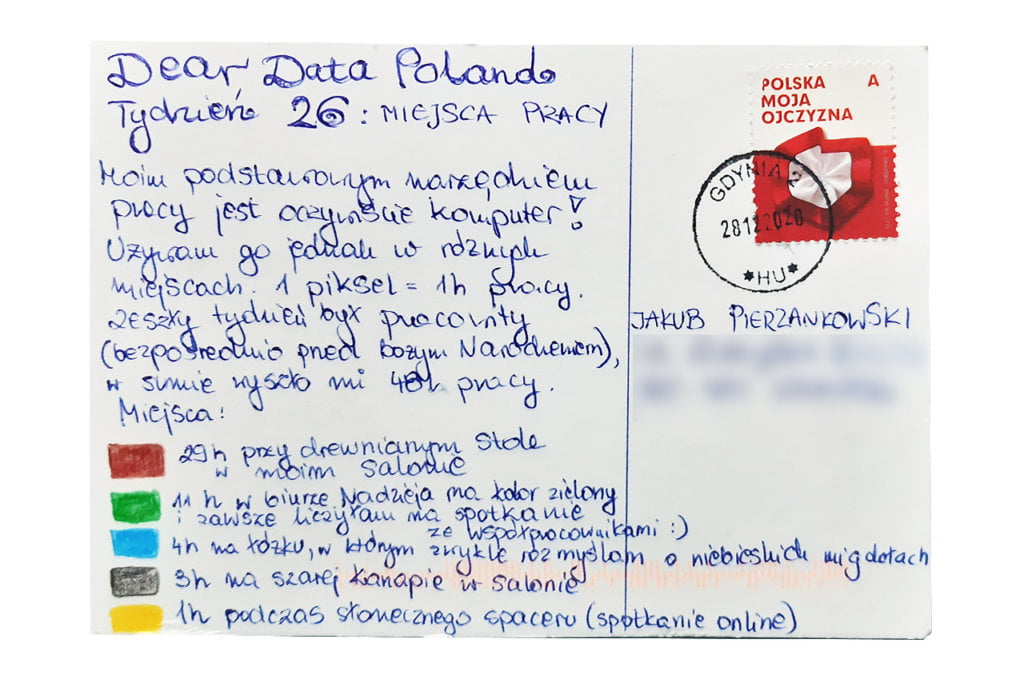 Klaudia
Topic:
It's been a very busy week – I spent 48 hours in front of my laptop. Like most of us I work mainly from home. Over the last few days, however, I was running two webinars from my organization's office, so this week was more diverse than the previous ones in terms of location (for the benefit of the postcard). 
Data gathering:
Every evening I would write down where I worked that day and for how long. 
Data drawing:
I procrastinated with drawing this postcard for 2 or 3 days, as no idea coming to my mind seemed to be right. In the end, I thought about the so-called waffle chart, the elements of which I could use as pixels. As a result, my postcard laptop is pretty pixelated, but after all, there were "only" 48 working hours in my week 🙂
Jakub's postcard:
It's interesting that this week we interpreted the main topic, workspaces, in a completely different way. I saw it more literally, Jakub – figuratively. I read with curiosity Jakub's postcard. I can see a soulmate when it comes to Trello, Google Analytics and Google Docs 🙂
The process: