Jakub
Topic:
Mythical week. Postcard on this topic made by Giorgia Lupi is my favorite one. It is for me a Dear Data project symbol. Initially, I thought I would approach this topic in a similar way, i.e. by showing, among others, types of doors I pass through. However, I changed my mind quickly.
Data gathering:
I focused on the number of doors and their location. It would burden me too much to focus on the type of doors. Especially that at work I was carrying out a project of a dozen or so photo sessions, which I was deeply involved in. I set a reminder on my phone every 2 hours, and at such intervals I was noting down all the doors I walked through.
Data drawing:
The graph resembles the representation of doors in architectural solutions. The intersection of lines in the middle refers to the nature of doors, i.e. connecting two spaces. I am not entirely happy with the card. I think it is pretty, but it is far from an effective data visualization.
Klaudia's postcard:
Currently, it is my favorite Klaudia's postcard. It is eye-catching and clearly presents the data. I am a fan of using color saturation and I will definitely use this type of technique in the future.
The process: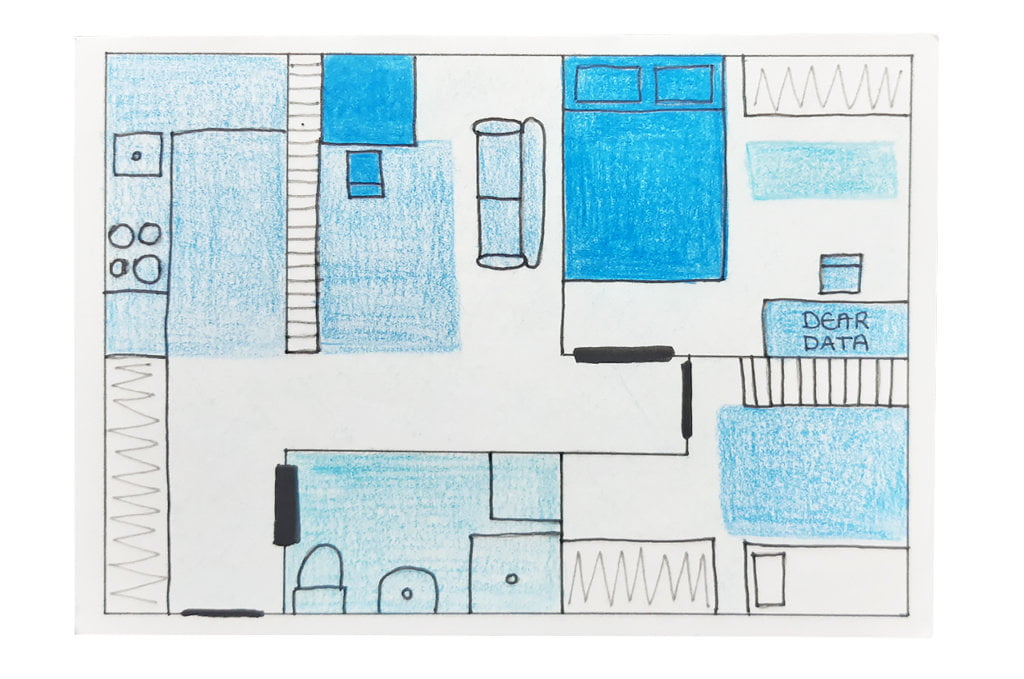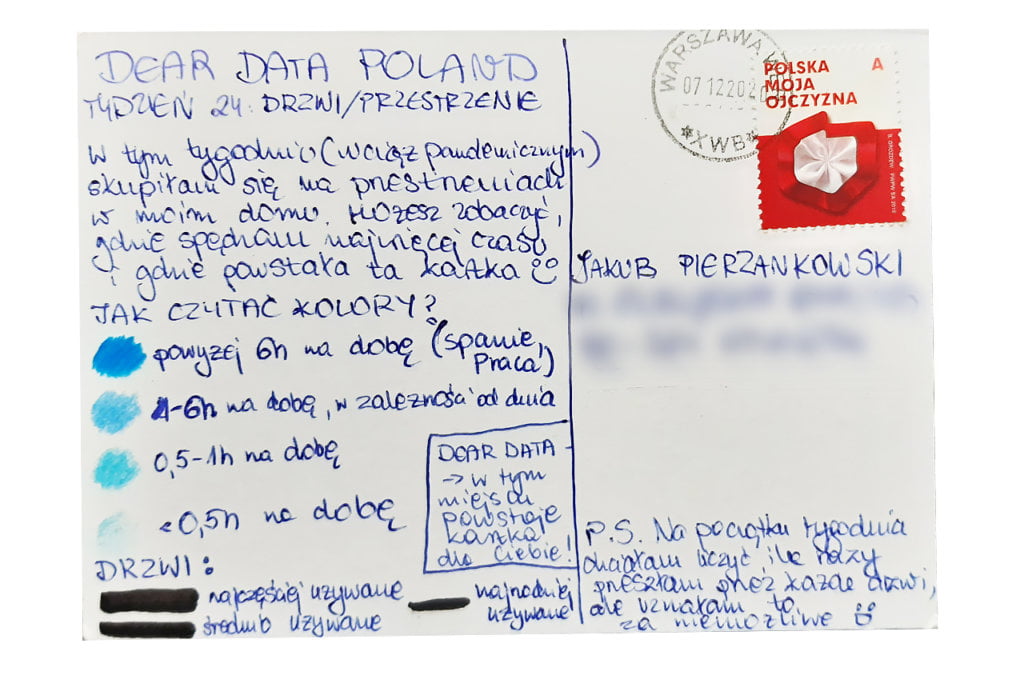 Klaudia
Topic:
Doors and spaces. I have been waiting for this week for a long time. Can I really count how many times I've walked through different doors in and out of my apartment?. 
Data gathering:
Already on Monday at 11 AM, which is 4 hours after waking up, I decided that recording each time I pass through the door would drive me crazy and I'd rather give up the Dear Data project 🙂
With full deliberation, I stopped counting door passages and focused on the word spaces. As I spend 95% of my time at home (the pandemic reality), I counted every evening how much time I spent in different corners of the apartment. 
Data drawing:
The idea came quite naturally. I sketched the layout of my apartment and, using the saturation of colors, I indicated the most frequently used spaces. The most intense blue spaces are my favorite ones 🙂
Jakub's postcard:
I like the visual effect of Jakub's postcard. The multitude of lines resembles the trajectory of doors opening and closing.
I also have to admit that I am a liitle jealous of the number of times Jakub spent at work 😉 I haven't been to my office even once this week and I still miss the everyday coffee and chats with my colleagues.
The process: